Starting a career in cybersecurity in 2024 is like gearing up for a mission in the digital frontier – it's thrilling, necessary, and, let's be honest, a bit daunting. But it's also incredibly timely. According to Cybersecurity Ventures, it's estimated that global cybersecurity spending is expected to exceed $1 trillion cumulatively over the five years leading up to 2024. That's a colossal investment, signaling just how critical this field has become.
As we're chatting in 2023, we've seen that cyber threats aren't slowing down. In fact, they're evolving with a kind of tenacity that would make Darwin proud. Ransomware attacks, for instance, are projected to cost victims globally around $20 billion by the end of this year. That's a staggering number and a clear signal that the demand for savvy cybersecurity professionals isn't just a passing trend – it's a growing career necessity.
So, where do you start in this dynamic field? Well, it's a bit like constructing your own digital suit of armor, piece by piece. You need to build your foundation with education – think degrees, certifications, and practical experience. The cybersecurity realm is one where continuous learning isn't just encouraged; it's required to stay ahead of the cyber baddies.
Diving in headfirst by getting hands-on experience through internships or entry-level positions is key. This is a field where the phrase "learning by doing" is practically a battle cry. The trenches of IT support or a network operations center can be great places to cut your teeth.
And since you're curious about this in 2023, you're in luck. The Bureau of Labor Statistics was already forecasting a 31% growth in cybersecurity jobs from 2019 to 2029 – a rate much faster than the average for all occupations. And that momentum hasn't shown signs of stopping as we approach 2024.
So, if you've got a knack for technology and a desire to be on the front lines of the digital age's most critical battles, cybersecurity is your calling. Gear up, stay sharp, and welcome to the realm where your skills help guard the digital gates.
A recent study by the ISC² found that, despite COVID-19 and economic pressures, organizations plan to increase cybersecurity staffing over the next 12 months. So "How to start a career in cyber security"?
How to Start a Cyber Security Career in 2024?
Quick Tip
Important steps to start a career in cybersecurity:
Bachelor's Degree in Computer Science, or a similar field.
Knowledge of firewalls and various forms of endpoint security.
Knowledge of languages/tools such as C++, Java, Node, Python, Ruby, Go, or Power Shell is an added advantage.
The ability to often work under pressure and in a fast-paced environment.
Possess the right eye for detail and outstanding problem-solving skills.
Up-to-date knowledge of the latest Cyber Security trends and hacker tactics.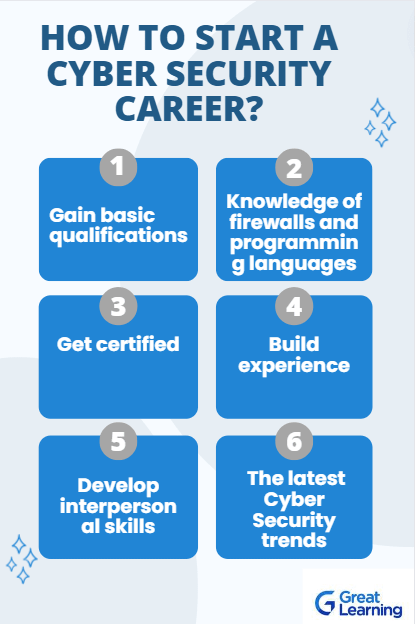 What is Cybersecurity?
Cybersecurity is the defence against cyber threats to systems connected to the internet, including their hardware, software, and data. The method is used by people and companies to protect against illegal access to data centres and other digital systems.
A solid cybersecurity plan can offer a good security posture against malicious assaults intended to gain access to, alter, delete, destroy, or extort sensitive data and systems belonging to a business or user. Security measures are essential in preventing attacks that try to take down or impair a system or device's functionality.
Now that many companies, financial sectors, and government organizations are looking forward to protecting their data from hackers or cybercriminals. These attacks must be handled by engineers, pen testers, security testers and other professionals to prevent the attack.
Free Cybersecurity Course
Why Cybersecurity is important?
Cybersecurity is important across different sectors such as government organizations, startups, mid and large enterprises and even for personal use. But why do think security is very important?
Gone are the days of simple firewalls and antivirus software being your sole security measures. Cyber threats can come at any level of your organization So, educating your employees about simple scams like phishing, ransomware attacks or other malware designed to steal intellectual property or personal data.
Cybersecurity risk is increasing and without its help, your organization cannot defend itself against data breach campaigns.

So, all these factors are directly related to an increase in job opportunities. Before moving to the actual topic, let's see some of the common questions that cybersecurity aspirants have in their minds.
Let's get started!
What is the difference between Information security vs. cybersecurity?
| | |
| --- | --- |
| Cyber Security | Information Security |
| Focuses on online threats | Takes a view of the security landscape |
| Cyber professional learns to think like a hacker | Information security deals with the protection of data |
| Should understand malicious software in dept | Oversees unauthorized access |
| Acts as the first line of defence | Makes strategy to recover from a breach |
What is the difference between Network security vs. cybersecurity?
| | |
| --- | --- |
| Network Security | Cyber Security |
| Network security protects the data flowing over the network. | Cybersecurity protects the data residing in the devices and servers. |
| A subset of cybersecurity. | A subset of information security. |
| Protects in the network realm. | Protects in the cyber realm. |
| Protection from DOS attacks. | Protection from cyber-attacks. |
| Network Security strikes against trojans. | Cyber Security strikes against cyber crimes |
| Viruses and worms. | Phishing and pre-texting. |
| Network security protects the transit data only. | Cybersecurity protects entire digital data. |
| It secures the data travelling across the network by terminals. | It deals with the protection of the data resting. |
Is Cyber Security Right for Me?
Before Starting a Career in Cybersecurity
Ask the below questions yourself…
Do I have any certifications related to the cybersecurity field?
How to get started with cybersecurity?
What skills would I need for a career in computer security?
How will I get experience in this field?
Is there a lot of travelling involved in IT security roles?
Are there entry-level/internship opportunities available?
How are the career advancement opportunities?
I'll try to answer most of the above questions in the article, like how to get started with cybersecurity, skills, and job outlooks — but others will be dependent on your goals and the demand from employers where you live.
How to start a career in cybersecurity?
To get started with cybersecurity, one must understand Cyber Security Prerequisites:
In general, Cyber Security prerequisites are:
Bachelor's Degree in Computer Science, or a similar field.
Knowledge of firewalls and various forms of endpoint security.
Knowledge of languages/tools such as C++, Java, Node, Python, Ruby, Go, or Power Shell is an added advantage.
The ability to often work under pressure and in a fast-paced environment.
Possess the right eye for detail and outstanding problem-solving skills.
Up-to-date knowledge of the latest Cyber Security trends and hacker tactics.
Note: Different organizations may have different prerequisites.
The Top Skills Required for Cybersecurity Jobs
Problem-Solving Skills
Technical Aptitude
Knowledge of Security Across Various Platforms
Attention to Detail
Fundamental Cyber Forensics Skills
A Desire to Learn
An Understanding of Hacking
The ability to make decisions with confidence and show initiative
To be able to work effectively under pressure and meet tight deadlines
To be well organised and able to manage their own time
The ability to work creatively and think outside of the box
Strong communication skills, as well as the ability to adapt communication styles to suit different audiences
To have a clear understanding of confidentiality issues and related laws
Inquisitive nature and a keen interest in the IT sector
Cybersecurity career path
Cybersecurity offers several options for job seekers to launch and enhance their careers. This interactive career pathway displays the most important positions in the cybersecurity industry, popular routes for between-position transitions, and comprehensive details on the compensation, qualifications, and skill requirements for each position.
Check out entry, mid and advanced level cyber security career paths.
| | | |
| --- | --- | --- |
| Entry Level | Mid Level | Advanced Level |
| Cybersecurity Specialist | Cyber security Analyst | Cyber security manager |
| Cyber Crime Analyst | Cyber security Consultant | Cyber security Engineer |
| Incident Response Analyst | Penetration Tester | CISO |
| Risk Analyst | Testing and hacking | CIO |
| IT Auditor | Management and administration | Engineering and architecture |
Entry-Level Cyber security Career Path Details
Entry Level
Skills Required
Salary
Cybersecurity Specialist
Strong IT skills
Sharp Attention to detail.
Ability to identify the strengths and weaknesses of IT systems.
Cyber Security Specialist is ₹11,31,084 per year in India.
Cyber Crime Analyst
Scripting.
Hacking. C
Networking.
Operating Systems.
Cyber Crime Analyst in India is 5 Lakhs per year
Incident Response Analyst
Attention to detail

Technical writing and documentation

Intrusion detection tools

Forensics software

Incident Response Analyst salary in India ranges from ₹ 2.0 Lakhs to ₹ 31.2 Lakhs with an average annual salary of ₹ 5.1 Lakhs.
Risk Analyst
Risk Management
Procedures
Data Analysis
Risk Assessments
Regulatory Agencies
The average salary for Risk Analyst is ₹5,12,302 per year
Salary Source: Glassdoor
Mid-Level Cyber security Career Path Details
Mid Level
Skills Required
Salary
Cyber security Analyst
Scripting.
Controls and frameworks.
Operating systems.
Cloud.
DevOps.
The average salary for a Cyber Security Analyst is ₹5,44,411 per year
Cyber security Consultant
Penetration Testing.
Ethical Hacking
Persistent Threat Management.
Firewall Safety and Management
Encryption Techniques and Capabilities.
Cyber Security Consultant salary ranges between ₹ 5.5 Lakhs to ₹ 19.7 Lakhs with an average annual salary of ₹ 9.5 Lakhs
Penetration Tester
Network security.
Programming languages
Threat modeling.
Linux, Windows, and MacOS environments.
Pentest management platforms.
Average salary for a Penetration Tester in India is 7 Lakhs per year
Salary Source: Glassdoor
Advanced-Level Cyber security Career Path Details
Advanced Level
Skills
Salary
Cyber security manager
Communication.
Information security and systems.
Information assurance.
NIST Cybersecurity Framework.
Linux.
Cyber Security Manager salary in India ranges from ₹ 13.1 Lakhs to ₹ 41.8 Lakhs with an average annual salary of ₹ 24.3 Lakhs.
CISO
Information security risk management
Cybersecurity technologies strategy.
Strong understanding of Linux, virtualization, and networking concepts.
Chief Information Security Officer salary in India ranges from ₹ 16.8 Lakhs to ₹ 99.0 Lakhs with an average annual salary of ₹ 35.5 Lakhs.
CIO
Fusing business and technology strategies.
Developing talent.
Designing the IT operating model.
The average salary for a Chief Information Officer (CIO) in India is ₹4532197.
Salary source: Glassdoor
6 Steps to start your cybersecurity career
Step 1: Understanding the Cybersecurity Landscape
Before diving in, it's crucial to grasp the vast expanse of cybersecurity. This realm is not a monolith but a mosaic of different specialties – from ethical hacking to digital forensics, risk management to compliance. Start by researching and identifying the niche that lights a fire in your tech-loving heart.
Step 2: Equip Yourself with Education
While the lure of diving right in is strong, you'll need an educational foundation. A degree in computer science, information technology, or cybersecurity itself is a common starting point. But don't overlook the burgeoning field of specialized cybersecurity bootcamps and certifications such as CompTIA Security+, Certified Information Systems Security Professional (CISSP), or Certified Ethical Hacker (CEH), which can provide focused training and are often highly regarded by employers.
Step 3: Practical Experience is King
Theory and practice go hand in hand. Seek out internships, entry-level roles, or even capture-the-flag (CTF) competitions to hone your skills. Real-world experience is invaluable, and demonstrating that you've successfully applied your knowledge can set you apart.
Step 4: Networking and Community Involvement
Cybersecurity, much like any other field, thrives on community. Engage with online forums, local meetups, and conferences. Platforms like LinkedIn can be goldmines for connecting with industry professionals. Remember, it's not just what you know, but who you know.
Step 5: Stay Agile and Keep Learning
Cyber threats evolve rapidly, and so must you. Continuing education is part of the job. Stay current with the latest trends and threats by following industry news, attending webinars, and pursuing advanced certifications.
Step 6: Build Your Personal Brand
In the digital age, your online presence is your resume. Contribute to open-source projects, maintain an active GitHub profile, blog about cybersecurity topics, or create tutorials. These activities showcase your passion and expertise to potential employers.
Get started with cybersecurity courses:
Dip your toes in some of the free/paid cybersecurity courses listed below:
Great Learning Academy: FREE
They offer many free courses related to cybersecurity, some of the popular courses are :
Introduction to cybersecurity
Introduction to information security
Introduction to ethical hacking
Advanced Cybersecurity – Threats and Governance
Ethical Hacking – Mobile platforms and networks
Cybersecurity Books for Beginners
Cybersecurity For Dummies: This helps you to understand the basics of cybersecurity, including different cybersecurity threats, ethical hacking, and many more.
Cybersecurity for Beginners: This is a bible for those who are from a non-technical background as the authors have simplified cyber terms into plain text and in non-technical English.
Hacking: A Beginners' Guide: This book is all about hacking, types of hacking, and hacking methods.
Also Read: How to start an Ethical hacking career?

Practical Malware Analysis: This is a guide to all kind of malware and helps you to analyse, debug malicious software.
Cybersecurity Careers
Since cybersecurity is a huge field, one can take many different paths in cybersecurity. Keep in mind that cybersecurity job titles may vary from company to company, but in general, here are some common roles:
Cybersecurity generalist: Jack of all trades for smaller organizations.
Network security engineer: These people are involved in managing the network security of their company, from firewalls to routers to VPNs. They are usually found in bigger companies.
Cloud security engineer: This role is mainly involved in providing security for cloud-based platforms.
Application security specialist: These are the people who are involved in protecting applications from threats using a mix of hardware and software skills.
Identity and Access Management engineer: A sub-field of cybersecurity that mainly focuses on digital identities within an organization to ensure correct levels of system and prevent unauthorized use.
Security architect: These are the people who are involved in designing, building and managing the implementation of network and computer security for a company.
Penetration tester: Penetration testers are those who get paid to legally hack into software systems to identify vulnerabilities.
Malware/forensics analyst: These are the people who are involved in digging the malware.
Incident response analyst: These are the people who responded to any type of security breach and limit the damage.
Cryptographer: Here people are involved in encrypting sensitive information to ensure corporate privacy.
Security trainer: Trains employees in security practices.
Cybersecurity engineer: Designs, develops and implements network solutions to defend against cyber-threats.
And there are more! Nearly all of these positions require at least one or more cybersecurity certification.
What industries can cybersecurity professionals can work in?
As a cybersecurity professional, you could work in industries, such as:
Banking Sector – The banking sector always operates in a highly regulatory environment, they usually face threats from cybercriminals.
Federal Government – The United States government spends about $28B per year on cybersecurity. In the USA all security personal must complete cybersecurity certification courses that are approved for DoD 8570/8140.
Cybersecurity Law – Lawyers can specialize in information security to handle liability resulting from breaches.
Utilities – A cybersecurity professional is necessary for utilities such as our nation's water, electricity, and power utilities as a hacker could cut off power to a water plant or a gas refinery.
Cybersecurity Salary Trends
Last but not least, the salaries are something to smile about as cybersecurity has a good pay scale! Below we've provided average salaries for several countries:
Average annual salary in the UK: £50,000-80,000
Average annual salary in the US: $75,000-120,000
Average annual salary in Canada: C$80,000-150,000
Average annual salary in Australia: $A75,000-135,000
Average annual salary in India: ₹ 608,750
Start a Cybersecurity Career Today
Almost every company requires a security professional in today's digital era! There has never been a better time to start a career in cybersecurity. If you are skilled in security practises, and have relevant experience, there are several cybersecurity job opportunities across all sectors and industries.
"The perfect chance for me to build my foundations on the critical pillars of Cybersecurity", says Digambar, an alumn of Great Learning's Cybersecurity Program. Read further to learn about his journey with Great Learning.